by Sijin George | 13 March , 2019
SolusVM helps in managing servers easily. And, having a built-in billing solution make things easier for service providers.
Fortunately, SolusVM works well with billing solutions like WHMCS. But, this involves few configuration steps.
Today, we'll see how our Support Engineers setup Solusvm WHMCS integration and fix common issues with it.
Why SolusVM and WHMCS?
Before digging deeper, let's first see the benefits in choosing WHMCS as the billing option in SolusVM.
SolusVM has become quite popular as it makes virtual server management easy. But, it do not have a built in billing option. Manually tracking billing will be a tedious task for service providers. That's where top billing solution like WHMCS helps.
Both SolusVM and WHMCS comes with their own licenses. When they are integrated together, service providers can easily manage customers and their servers. Here, SolusVM will do the server creation part and WHMCS will take care of the billing.
From our experience in server management, our Dedicated Engineers see that SolusVM and WHMCS combination works well and we often recommend it for customers looking for integrated solutions.
Steps to integrate WHMCS with SolusVM
Luckily, SolusVM comes with a WHMCS module that can take care of billing. This module comes with options to create, destroy servers, suspend users, upgrade resources and many more. But, it requires integration with the SolusVM.
Now, let's see the steps that our Support Engineers do to integrate WHMCS with SolusVM.
1. Verify the server requirements
To make WHMCS module work with SolusVM, there are couple of server side requirements. The SolusVM server should be running on Master mode to set up the integration. Therefore, our Support Engineers first check and verify the SolusVM mode and ensure that WHMCS is of version above 4.4.2 . Additionally, we enable IonCube Loaders and set the correct values for Max VPS, Max Memory and Max Disk Space in SolusVM.
2. Install module
Secondly, we download the SolusVM WHMCS module from the official repository. And, we extract the zip file and upload the Modules folder to the WHMCS server.
3. Configuring SolusVM WHMCS module
Now its time to configure the SolusVM WHMCS module.
Here, our Support Engineers begin the process by setting up an active application user in SolusVM. This requires the IP address of the WHMCS installation too. As this id and key remains permanent, we take special arrangement to copy it to a safe place.
As the next step, we add the SolusVM master server details to the WHMCS module. We fill in the Hostname and IP address of the SolusVM server from the WHMCS option Setup > Servers > Add new server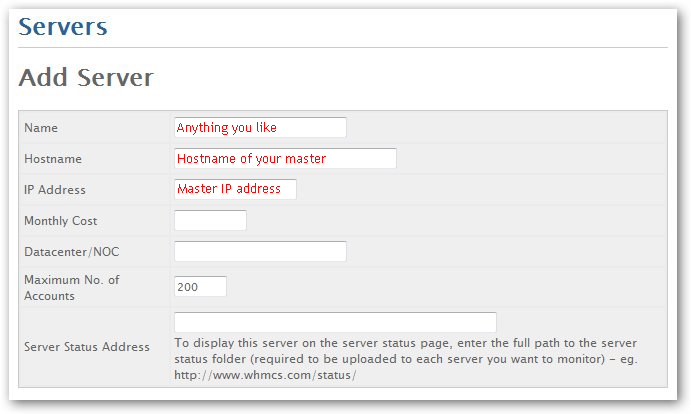 Additionally, to make the system working, we add the API ID and Key too.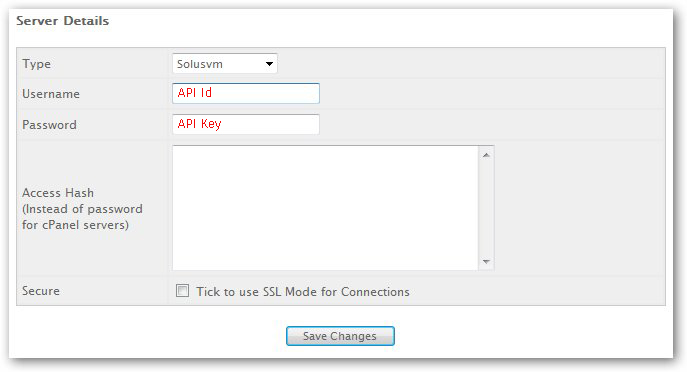 To ensure secure data transfer, we always use the SSL mode for the connections. This is extremely important as it contains server details.
4. Adding product packages
Finally, its time to add the product packages. Our Dedicated Engineers work with customers to add their custom packages into the WHMCS. This involves setting options like Server type, virtualization type, number of IP addresses, etc.
That completes WHMCS SolusVM integration and is ready for provisioning new accounts.
Common errors and fixes
Although, the steps for WHMCS SolusVM integration looks pretty straight forward, we often see customers finding problems with it. Let's see the top problems and how we fix them.
1. Connection problems
Recently, one of our customers reported problems with his SolusVM. When clicking the "Products/Services" option for any VPS, he was getting a message stating:
Here, our Dedicated Engineers started troubleshooting by checking the configuration settings . We found that there was typo in the API key details. Therefore, to fix the error, we edited the API access, and added the correct main IP of the WHMCS server.
2. Firewall restriction
Again, WHMCS SolusVM integration can face problems due to firewall restrictions. If the ports used by SolusVM are not open on the server, integration fails. For example, SolusVM Master Server listens on port 5353 for normal connections and 5656 for SSL connections.
Hence, our Support Engineers make it a point to open both ports in the server firewall.  Additionally, we often secure the SolusVM to only accept client traffic on 443. Here, we configure it to communicate only with the slaves on 5656.
[Need help with SolusVM WHMCS integration? We can help you.]
Conclusion
In short, SolusVM WHMCS integration helps service providers to manage servers and their billing easily. Today, we saw the steps that our Support Engineers use for integration and how we fix common problems with it.